Come spend some time in a completely refurbished railroad caboose (with all the modern amenities) just off the Blue Ridge Parkway at Orchard Gap, approximate mile 193.5. Grassy Creek Cabooses are cabooses renovated into cabins for lodging/rental in the Blue Ridge mountains near Fancy Gap Virginia with 2 person jacuzzi's and satellite tv in each unit. We are convenient to I-77 near the NC/VA state line or highways 52 & 58.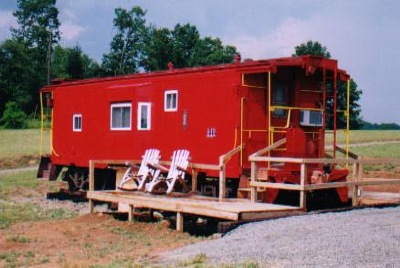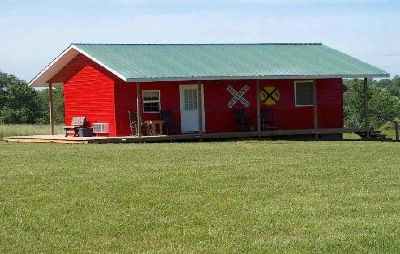 The Depot (cabin) is also available. The 2 person jacuzzi is in the bedroom and a queen size sleeper sofa is in the living room. The depot is over 500 sq/ft and features 3 decks 2 of them covered as well as all the other amenities of the cabooses. You won't find a cabin this size with all the extras we provide for less.

Grassy Creek Cabooses now has e-cards you can create & send to your family & friends. Just click on this link e-cards. There are several pictures to choose from and you add the background, text and music. Post them to your facebook, twitter or other social media. Best of all they are free.


We are now members of Virginia Green. They promote recycling, conservation, energy efficiency and other environmentally friendly projects.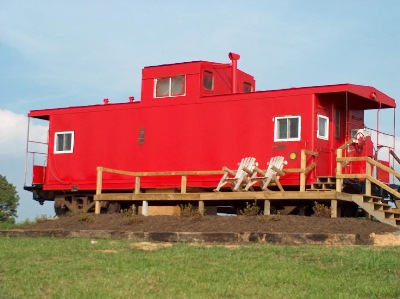 Escape the hustle and bustle of urban life as you relax on one of the decks in a cedar log rocker while taking in the high meadow, rolling countryside at an elevation around 3000 ft. There are a couple of oversize swings on the hill to relax and unwind while the world hurries by. Since we are near Fancy Gap and just off the Parkway you will find this to be a peaceful and serene setting.

Grassy Creek Cabooses is a great place for your anniversary, honeymoon or a romantic getaway. You will find our accommodations to be secluded & private. We are biker friendly.

We are convenient (within 1.5 to 2 hours) to several NASCAR tracks if you are traveling for a race. Those tracks are: Bristol Motor Speedway, Lowe's Motor Speedway, and Martinsville Speedway.

On a clear night you can sit outside to see thousands of stars in the higher altitude without a bunch of those bright vapor lights. During the day you can walk around the 33+ acres and hike down the hill to Grassy Creek. There you can relax all by your lonesome among the pine & laurel thickets. On occasion you may see a doe & fawn run across or maybe even some turkeys or a buck.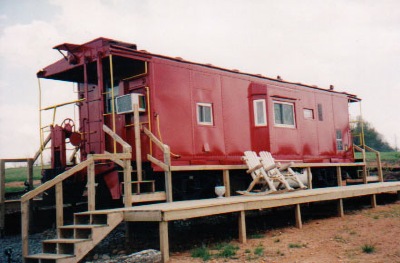 Whether you're just stopping over while traveling the Blue Ridge Parkway or as a home base for the many local activities you will find Grassy Creek Cabooses to be a most enjoyable and memorable place to spend some time. Mabry Mill the most photographed spot on the parkway is north about 18
miles. We are a convenient stopping point here in Fancy Gap for folks traveling from the Indiana/Ohio region down to Myrtle Beach via the I-77 corridor.

We are close the wineries of Château Morrisette, Shelton Vineyards, Villa Appalachia, Black Wolf Vineyards, Round Peak Vineyards and Old North State Winery for folks looking to do winery tours. When you return with your find we have wine glasses & a corkscrew available in each unit. If the Hillsville Flea Market is your thing then we are only about 15 to 20 minutes away. Into the music
scene, we are near Floydfest, Blue Ridge Music Center and the Galax Fiddlers convention. We're on top of the mountain above Mount Airy which hosts Mayberry Days and Autumn Leaves.

All of the cabooses and Depot are furnished with the following: 2 person Jacuzzi, Satellite TV, DVD/VCR combos, refrigerator, microwave, toaster oven, coffeemaker. We have furnished them with plates & utensils for grilling out on the charcoal grill at each caboose. They have a private bath, queen size bed and hair dryer. There are decks with cedar log rockers and a table in between to rest your beverage of choice. Caboose 494 has a full service kitchen with an oven/cooktop & all utensils including pots & pans. Linens are furnished with each caboose.

We can be emailed at thecabooseman@yahoo.com or phone us at 276-398-1100. Rates are $95+ tax per night for the cabooses and $105+ tax per night for the depot. Stay 5 consecutive nights get 6th night free. Rates are based on up to 2 person occupancy. Check in time is 2 pm or after and checkout is by 11 am. Inflation fighters, we have not raised our rates since we opened in 2001 plus we have added amenities, more bang for the buck. We offer the best value around with our prices, amenities, views and accommodations. There is a 72 hour cancellation policy. No Shows will be charged.

Grassy Creek Cabooses are: Open Year Round


Please bookmark us (ctrl-d) as future reference for any of the
following:

Floydfest, Blue Ridge Music Center, Mountain Lodging rental, Galax Fiddlers
Convention, Traveling the I-77 corridor or Blue Ridge Parkway, Mabry Mill, Hillsville
Flea Market, Biker friendly, Chateau Morrisette, Shelton Vineyards, Villa Appalaccia,
Black Wolf, Round Peak, Old North State winery, Railroad Caboose Cabin, Mount Airy,
Mayberry Days, Autumn Leaves, NASCAR, Lowes Motor Speedway, Martinsville
Speedway, Bristol Motor Speedway, Virginia cabin, Blue ridge parkway cabin rentals
lodging, North Carolina cabins, Star Gazing, Anniversary, Honeymoon, doe run,
volunteer gap, lonesome pine, Fancy Gap, Orchard Gap, Newlywed/romantic secluded weekend
getaway.